If you're dreaming of retiring within sight of the Blue Ridge Mountains but not far from the ocean, North Carolina is an ideal destination. The combination of the relatively low cost of living and the beautiful surroundings, with many different options for staying active and pursuing your interests during retirement, make the Old North State a desirable location for either living in a retirement community to buying your own amazing home.
Where are the best places to retire in North Carolina? We've rounded up some of the top locations that marry up great natural surroundings, facilities, climate and more, to come up with this list:
New Bern
Asheville
Raleigh
Hendersonville
Forest City
Reidsville
Black Mountain
Brevard
Roxboro
Eden
Spring Lake
Lumberton
Lexington
Williamston
Pinehurst Village
Marion
Hickory
Greensboro
Charlotte
Kill Devil Hills
Best Places to Retire in North Carolina
Read on to find out the type of lifestyle you can lead in these cities and communities in our guide on where to retire in North Carolina.
1. New Bern
This small coastal town is one of the best cities to retire in North Carolina. You'll be able to live by the waterside and enjoy walking on the beach, as well as play golf to your heart's content.
New Bern's cost of living for retired people is c. 3% below the national average, and it's a moderately tax-friendly town, too.
2. Asheville
Asheville is an ideal place to retire if you like exploring the great outdoors. It's a base for trips into the Great Smoky Mountains National Park and the Blue Ridge Parkway and a home for innovative food and drink using locally sourced ingredients.
The Asheville area is popular with artists, writers, and musicians thanks to its natural beauty and the opportunity to live alongside other creatives. This is what makes it an excellent place to live if you're interested in a thriving arts and cultural scene, all while enjoying amazing natural surroundings.
3. Raleigh
Between North Carolina State University, Duke University, and the University of North Carolina – Chapel Hill, the so-called research triangle is formed in the Durham and Raleigh area. This has attracted many highly educated individuals living and teaching here, but it also offers an excellent opportunity to be involved in ongoing education in retirement.
As a resident of North Carolina aged 65 and older, you can audit courses for free at NC State University. Moreover, specific health care services for retirement communities are offered by Duke University Hospital and the UNC Hospitals.
4. Hendersonville
Near Asheville, this charming town with only just under 15,000 residents has lots of historic buildings and offers a cost of living of 10% below the national average. It also has a busy, vibrant life with lots of shopping and restaurants, ideal for keeping busy and participating in the community.
Hendersonville has been voted the best place to retire in North Carolina thanks to its low tax burden, excellent health facilities, and a whopping 30% of the population being made up of seniors.
5. Forest City
Forest City, NC, is another small, charming city with old-fashioned downtown shops and cafés. Amenities are close and convenient for retirees, while the area is very scenic.
6. Reidsville
Over a fifth of Reidsville residents are retired, but this is a very active retirement destination in North Carolina. The historic town has miles of walking trails and beautiful scenery on the bank of the Haw River. Hiking and enjoying natural beauty and wildlife by the river would be your main outdoor activities in Reidsville, which is ideally situated for an active retirement while also keeping you within easy reach of care facilities and other amenities.
7. Black Mountain
Just recently voted in the top 10 places to retire in North Carolina, Black Mountain is nearby Asheville and has a tiny population of just under 8,000 residents. The town is named after an old train stop, being located at the southern edge of the Black Mountain Range within the Blue Ridge Mountains.
Generally a good tourist destination for lovers of outdoor pursuits, this is one of the great places to retire in North Carolina if you're looking for a peaceful lifestyle in the middle of nature. The town also features many quaint shops and restaurants to help keep you entertained and socializing.
8. Brevard
Situated in Transylvania County, Brevard is in the so-called "land of adventure" and a brilliant location for all things outdoors.
Living in Brevard means being close to multiple activities, from biking to equestrian to hiking in the great outdoors. As a retiree, you'll have access to lots of healthy activities in the fresh air while living in a popular and beautiful small town.
9. Roxboro
Named after the Scottish town of Roxburgh, this small town boasts a mild climate, beautiful surroundings, and an excellent place for retirees to enjoy a relaxed lifestyle. If you live in Roxboro, you'll enjoy a little snow in winter, too: it's often dubbed the "Snow Capital of the Triangle," as it often gets the most snow in NC due to its high elevation.
10. Eden
The aptly named Eden is a paradise in North Carolina. 20% of its residents are retired, and the cost of living is relatively low, i.e., 21% below the national average. It's a great community that offers a little bit of everything, from golf to an active senior center, to outdoor sports, and then an award-winning hospital to support the retired community from all points of view.
11. Spring Lake
If you're looking for somewhere with low home prices and a low-budget cost of living while still enjoying the best views and natural environment in North Carolina, then Spring Lake is a great place to retire. The community is welcoming, and the small-town feel will make living here particularly enjoyable.
12. Lumberton
Another great place to retire in North Carolina is the town of Lumberton, with great opportunities to live life in nature and a relaxed environment. It's a safe community with a low cost of living and great amenities for the retired residents, too.
13. Lexington
Up to 17% of the residents of Lexington are retired. This historic and peaceful town is a suburb of Greensboro, meaning that you'll have excellent access to amenities and healthcare while still enjoying an outdoorsy, fresh air atmosphere. The cost of living is low while still feeling like a great place to retire.
14. Williamston
Just around 28 miles away from Greenville, Williamston is one of the smallest towns on our list and a hub for equine activity. If you like horses, Williamston is the place to retire: the town has one of the biggest agricultural centers in Eastern North Carolina, the Senator Bob Martin Agricultural Center. You'll be able to watch horseshoes and rodeos and other activities like monster truck shows.
15. Pinehurst Village
Situated in the Sandhills, where pine trees abound, Pinehurst Village is a lovely spot for golf lovers as it boasts over 45 golf courses within its grounds and nearby. It's a great place to retire for all types of outdoor lovers, including those looking for hiking trails and quiet nature destinations.
16. Marion
Founded in 1844, the city of Marion is the county seat of McDowell County in North Carolina. Another small town with a charming atmosphere, this retirement destination is romantic and quaint. It's also a very affordable place with a low crime rate. The phrase they choose to describe Marion is "Where Main Street Meets The Mountains" – so this will be the place you'll get a beautiful small town, in the middle of beautiful nature.
17. Hickory
Voted the second-best place to retire in North Carolina after Hendersonville, Hickory is one of the loveliest towns in the state, and it's even made it as no. 52 best place to live in the whole of the US. It sits on Lake Hickory, where you can enjoy water adventures. It also offers a highly varied downtown scene, featuring a growing craft beer scene, eclectic downtown shops, and lots of great restaurants and cafés.
18. Greensboro
More affordable than Charlotte, Raleigh, and Durham, Greensboro is a town where you can still access bigger metropolitan areas like these three. The midsize city still keeps a small-town feel, cozy and comfortable with all the amenities for less than the cost of living elsewhere.
19. Charlotte
Although it's North Carolina's largest city, Charlotte is still attractive for retired people despite being a vibrant working community as well. It's an easy place to be close to family working in banking, for example, without making it too unaffordable for retirees. With many museums and performing arts venues, Charlotte is a retirement destination with lots going on while still being close to incredible natural settings.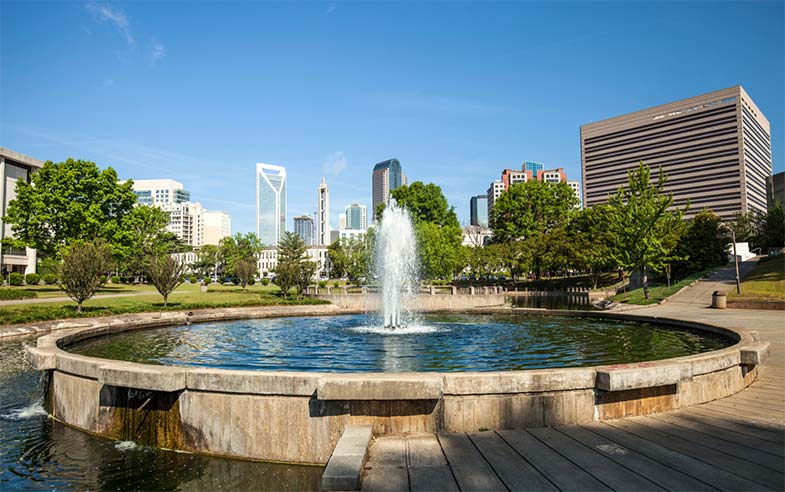 20. Kill Devil Hills
Our final pick sounds a bit… different! The ominous name is nothing like the actual atmosphere of this wonderful town in North Carolina. Visit the Wright Brothers National Memorial and enjoy a vibrant center full of shops and restaurants. It also has an active 55-plus center and is particularly welcoming to retirees.
Find the Best Places to Retire in North Carolina
To review, here are our picks for the best places to retire in North Carolina:
New Bern
Asheville
Raleigh
Hendersonville
Forest City
Reidsville
Black Mountain
Brevard
Roxboro
Eden
Spring Lake
Lumberton
Lexington
Williamston
Pinehurst Village
Marion
Hickory
Greensboro
Charlotte
Kill Devil Hills
Whether you're searching for a more urban environment or a small town with a quaint atmosphere and near the mountains or the sea, North Carolina offers a great variety of places to retire to happily. You can pursue a great variety of hobbies and interests, stay active, and benefit from a good network of healthcare and support, too.