Florida is among the best US states to spend the rest of your retirement years, so it has lots to offer, including beautiful beaches to keep you productive and happy. But among its cities, Tampa and Jacksonville are popular retirement options, leading us to this Jacksonville vs. Tampa debate.
So, is it better to retire in Jacksonville vs Tampa? When deciding between these two cities, you need to consider the disadvantages and advantages of living in each city to ensure you spend the rest of your retirement years in an area that will meet almost all your wants and needs.
To help you decide better where is the most suitable city for you or your loved one to retire in, let's talk about the cost of living, weather and climate, healthcare access, public transportation, crime rate, and attractions and activities in both Tampa and Jacksonville. After which, let's have a quick comparison of each city.
Is It Cheaper to Live in Jacksonville or Tampa?
When you have plans to move to a new area, especially for your retirement, one of your top considerations should be the cost of living.
Remember that paying for your bills and daily needs like food and medicine doesn't stop once you retire. You will need electricity, water, internet, a phone line, and food.
Fortunately, both cities are included in the best places to retire in Florida if you're on a budget list. Hence, you wouldn't have to worry about the cost of living in either of the two cities unless you're unprepared for retirement.
Healthcare, groceries, and utilities are within the 9% range of the country's national average. You'll also love that housing cost is lower than the national average. And, as part of the State of Florida, both cities are also tax-friendly.
However, when it comes to which is cheaper between the two, that would be Jacksonville.
As of writing, the overall cost of living in Tampa is 1.4% higher than the overall cost of living in Jacksonville. But, what makes living in Tampa more expensive than in Jacksonville?
Well, housing and rental are far cheaper, around 26.5%, in Jacksonville than in Tampa, with a $100,000 difference (bestplaces.net). You'll also love buying groceries in Jacksonville because they're more affordable. Approximately, the monthly cost difference is from $30 to $50.
But in terms of utility costs, Tampa is way below the national average, while Jacksonville is slightly above the nation's median cost.
Jacksonville vs. Tampa Weather and Climate
When you are about to retire, it's important to look into the type of weather and climate in the area. Not only will it make deciding whether you'll be comfortable in the city easier, but it will also help you determine if it won't trigger any of your allergies, hypertension, and other current illnesses.
Did you know that among the main reasons Florida is one of the favorite retirement destinations is its warm climate and snow-free (sometimes rare snow) weather?
Both Tampa and Jacksonville experience subtropical types of climates. It means they have similar lows and highs in the warmest and coolest months of the year.
Of course, there is a slight difference because of their geographical locations.
Jacksonville Weather or Climate
Jacksonville has a bearable humidity and heat level mainly because it's in Northern Florida. You'll also love that the summer heat doesn't last as long as cities in the south.
Temperature-wise, Jacksonville reaches a yearly average high temperature of 80F (27C) in June. Meanwhile, the yearly average low temperature is 56F (13C) in January.
Even better, Jacksonville residents don't usually experience hurricanes, so the storm season is much milder than most cities in Florida.
Tampa Weather or Climate
Unlike Jacksonville, Tampa's humidity and heat levels are uncomfortable for most tourists and new residents. The annual average high temperature in the city is 82C (28C), while the yearly average low temperature is 65F (18C).
Tropical storms are also not uncommon in Tampa, Florida.
Jacksonville vs. Tampa Access to Healthcare
We're all aware that access to healthcare is a critical factor when looking for a good place to move into because seniors are more prone to diseases and accidents.
The good news is both cities are home to highly-rated medical institutions, so you're assured you or your family member will receive top-quality, extensive healthcare services.
However, based on current data collected from residents receiving healthcare, the satisfaction ratings for healthcare costs and responsiveness are higher in Jacksonville than in Tampa. Specifically, the differences are 10.93% and 2.46%, respectively.
Jacksonville vs. Tampa Public Transportation
While you surely have a car you can bring to the new city you're moving into or sell and then use the money to buy a car, having an idea of how good or bad public transportation is in the area is a must. You surely would want to spend some days free from driving your car, right?
Unfortunately, public transportation in both cities is quite problematic because delays and unpredictable schedules are common. This situation won't just be a hassle; it can also be very stressful because you might miss appointments or return home later than expected.
In terms of cost, public transportation is more expensive in Tampa than in Jacksonville.
That said, if you use your car to move from point to point B and vice versa, you'll be happy to know that gas prices in both cities are much lower than the national average.
Jacksonville vs. Tampa Crime Rate
You might wonder: How safe is it for me to move to Jacksonville or Tampa? Will it also be safe for my children and grandchildren when they decide to move to the same area?
As among the largest cities in the State of Florida and the US, you'll expect that Tampa has a high crime rate, but you're mistaken. According to a recent survey, it's one of the safest large cities in the country, as the recorded crime rate is lower than the national average.
Jacksonville has a higher crime rate than Tampa, Florida, which is expected because of its high population. Nevertheless, you'll find neighborhoods in the city considered safer, such as Ortega Forest, Beach Haven, and Sandalwood.
Jacksonville vs. Tampa Attractions and Activities
Your retirement years shouldn't be boring; spending time alone, as a couple, and with friends or relatives should be one of your goals.
After years of working, you surely deserve to enjoy life to its fullest. Thus, you should also consider moving to a place where there are many things to look forward to and do.
The good news is both cities have many attractions and activities to offer their residents, no matter how old they are.
What To See and Do in Tampa
As a major cultural and business center in the Sunshine State, Tampa is home to major professional league teams, which you will surely love if you're a sports fan.
You'll also find several museums, like the Florida Aquarium, the Art Museum, and the Museum of Science and Industry, perfect for those who love arts, culture, and science.
Do you love the outdoors? Maybe you want to be close to nature? You won't be disappointed when moving to Tampa.
You'll find many beautiful beaches anyone would love to visit and enjoy. There are also amusement parks and zoos, ideal for when your young grandchildren visit you.
There is also no shortage of festivals and events that you can attend!
If shopping and even window shopping is your thing, go ahead and have a good slow exercise by visiting the many shops across the city. Even better, Tampa is known for having the longest continuous sidewalk in the country.
Tampa is famous for having great music venues, clubs, and bars.
Are you a foodie? You'll love that the city has many restaurants offering different cuisines. However, most of them specialize in serving seafood dishes.
What To See and Do in Jacksonville
With a rich cultural and historical legacy, Jacksonville offers its residents and tourists many things. It's why it has dozens of museums and historic neighborhoods, such as Riverside, Avondale, and San Marco, that you can visit to learn more about the city, state, and country's history.
That said, Jacksonville also focuses more on outdoor recreation and activities. The city has a park 80,000 acres wide, the country's largest urban park system.
There are also unique gardens and an arboretum where you can relax by simply enjoying what nature offers.
Like Tampa, you'll find several breathtaking, clean beaches where you can walk, sunbathe, swim, snorkel, and enjoy other water-related activities. Nightlife is also busy in the city with the many bars and clubs.
Regarding food, Jacksonville is known for great seafood and Southern dishes.
Jacksonville vs. Tampa: A Quick Comparison
Now that we have the important facts, let's sum up the pros and cons of living in each city. You can then determine which is better for you between Jacksonville and Tampa.
Cost of Living: Living in any of the two cities is cheaper than the national average, but Tampa's cost of living is mid-low, while Jacksonville's is low.
Weather and Climate: Tampa is more humid and warmer and is more prone to tropical storms.
Access to Healthcare: There is really no problem with access to healthcare services in both cities, but Jacksonville has a lower healthcare cost.
Public Transportation: Both have a weak public transportation
Safety: Tampa has a low crime rate, while Jacksonville has a mid-low crime rate.
Activities and Attractions: Tampa has a rich cultural and modern scene, while Jacksonville has a rich cultural, historical, and nature scene.
Where Should I Retire? Jacksonville or Tampa?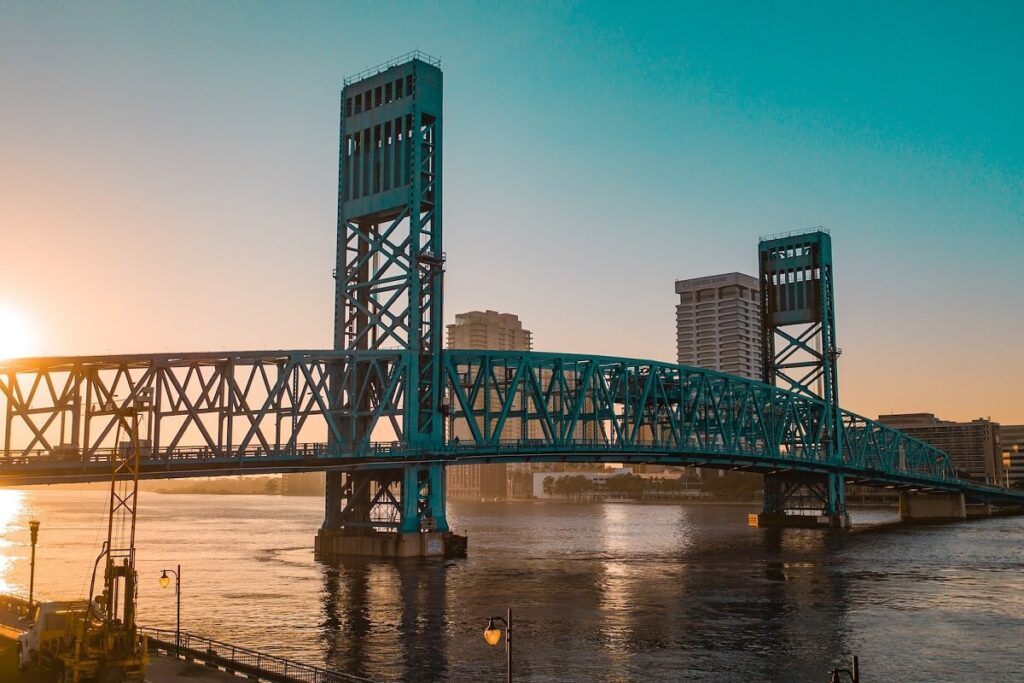 As you can see, both Jacksonville and Tampa have lots to offer, not just to retirees but also to locals and tourists. You have also surely realized that there are benefits and drawbacks to living in any of the two cities, meaning that there is no one perfect city for you to retire in.
Suppose we base our decision on the comparison above. In that case, Jacksonville takes the cake because of its advantage over Tampa in terms of cost of living, healthcare cost, weather, climate, and even attractions and activities.
However, the final decision all boils down to your preference and what matters to you most. Whichever city you plan to move into for retirement, ensure you have everything ready.
Moisture-wicking clothes, sun protection (view on Amazon), and even your beach wear and umbrella (view on Amazon), and other items you might need to enjoy the outdoors, like a picnic basket (view on Amazon).
References: