Home to many universities, Eugene, OR, sounds like an excellent place for young people. However, its great natural environment and its vibrant arts scene combine with numerous recreational opportunities to make it a good destination for those looking for 55+ and retirement communities in general.
What are the best 15 retirement communities in Eugene, Oregon? We think the following are some of the best options in this lovely city:
Cascade Manor
Garden Way Retirement Community
Terpening Terrace
The Springs at Greer Gardens
Churchill Estates Retirement Community
Willamette Oaks
Sheldon Oaks
Evergreen Senior Living
Lone Oak Assisted Living
Fox Hollow
Crescent Park
Eugene Abbey
Grace Manor Senior Living
Solvang Retirement
Lakeridge of Eugene
What's It Like to Retire in Eugene?
This vibrant college town isn't too big and has lots of great activities and attractions for those over 55 looking to keep an independent lifestyle during their retirement. Eugene is known as one of the most livable cities in the US – offering small-town charm with lots of added sparkle thanks to its arts scene.
Living in retirement communities in Eugene, Oregon, doesn't mean simply moving in with like-minded neighbors and enjoying some assistance in areas where you wish to have it. The 17,000 students who attend the University of Oregon alone make it a town where a thriving and eclectic arts scene combines with great outdoor activities like hiking, skiing, and more. So, depending on your interests, you could continue with many different pursuits during your retirement here.
Eugene is also famous for its extensive park system, friendly to bikers and walkers thanks to miles of bike and running trails. Overall, outdoor lovers will enjoy living here and being close to amenities and a certain big-city feel. The nearby Cascade Mountain and the parks make it a beautiful place with a liberal, significant hippie population.
15 Best Retirement Communities in Eugene, Oregon
1. Cascade Manor
Cascade Manor is Eugene's only not-for-profit continuing care retirement community. Catering to those looking for more support during their retirement, Cascade Manor offers a range of apartments and studios on a 7-acre campus featuring spa-style amenities, a wellness center, hobby rooms, and lifelong learning opportunities.
Thanks to housekeeping and transportation services designed to take some of the burden of every day chores off its residents, Cascade Manor combines independent living with an ideal amount of support. Their robust wellness program and focus on staying active and balanced make them an excellent destination for those looking to maintain a very active lifestyle.
And let's not forget that this is a continuing care community, where in-house healthcare is offered alongside skilled nursing and rehabilitation services.
2. Garden Way Retirement Community
Another one of the all-inclusive retirement communities in Eugene, Oregon, Garden Way, features different style apartments starting from affordable rental prices for those over 55. Amenities include 24/7 dining and transportation services and a big focus on health, safety, and comfort.
As part of Sunshine Retirement Living, you'll also find a range of activities, wellness programs, and care options offered as part of the package when retiring here.
3. Terpening Terrace
This retirement community has been built starting from a tradition, that of the Terpening family who lived on the same site and wished to create a place where retired people can indulge in their freedom, enjoy security in their independence, and maintain a feeling of home.
Fitness programs and social activities come with the territory here. This is a pet-friendly community, and you can expect to enjoy access to a library and reading room, community kitchens, a cinema room, multipurpose spaces, and resident gardens.
4. The Springs at Greer Gardens
Among over 55 communities in Eugene, Oregon, The Springs at Greer Gardens has a special place. It offers independent and assisted living and a specialized arm dedicated to memory care.
This large community has stylish cottages, modern amenities, great open spaces, and fitness facilities. Independent living is offered in studios, apartments, and cottages where you have all the space you would need for yourself and visitors. There are various options for those looking for assisted living, and an individual care plan can be tailored. Finally, the facility offers the Footsteps Memory Care center, designed for older adults with Alzheimer's disease and other forms of dementia. Highly trained teams provide excellent, unique care.
5. Churchill Estates Retirement Community
Churchill Estates is one of the premier retirement communities in Eugene, Oregon. They are a community for independent living with lots of activities on the program, as well as meal plans and a fitness room to enjoy alongside outdoor pursuits. This community also features some brand new renovations as part of their varied floor-plan apartment.
In addition to independent living arrangements, Churchill Estates also offers assisted living accommodation and a memory care program focusing on maintaining a good standard of living and maximizing the personal freedom of those residents who have Alzheimer's and other forms of dementia.
6. Willamette Oaks
Senior apartments and assisted living arrangements await at Willamette Oaks, which boasts a signature LifeMinded approach to engaged retirement living. This means a five-component approach to retirement care: physical fitness, brain fitness, social connections, making a difference, and LifeMinded Rewards. The latter refers to financial discounts for living on-site for longer, allowing residents to benefit from a rental price cap.
7. Sheldon Oaks
If you're looking for independent living arrangements, then Sheldon Oaks has lovely 2-bedroom apartments. This 55 community in Eugene, Oregon, also offers meal plans, assistance for housekeeping, organized excursions, as well as a fully equipped gym. You can also customize your care, with support around choosing providers and without resorting to an assisted living facility.
8. Evergreen Senior Living
Evergreen Senior Living gets excellent reviews from families with relatives already on site. The staff is warm and knowledgeable, supporting residents gently. There are options for cooking for yourself or for attending dining room shared meals, and there are skilled nurses on campus, too. The minimum age for joining this retirement community is 65.
9. Lone Oak Assisted Living
Lone Oak Assisted Living is a welcoming community that offers assistance with everyday activities for those requiring an enhanced level of support during retirement. It is all within a campus where residents enjoy many activities, social options, restaurant-style dining, an in-house beauty salon, and more.
10. Fox Hollow
Fox Hollow Residential Care Community opened its doors in 1971 and provides excellent-quality assisted living facilities and independent living apartments. They make meals in-house, aiming to create a homely atmosphere for residents and treat everyone living there like family.
If you are suffering from any conditions, moreover, Fox Hollow staff can manage your medication and offer additional services on individualized care plans, and finally, palliative care and hospice services.
11. Crescent Park
At Crescent Park Senior Living, retirement living is managed by Spectrum. They have a lot of experience with such communities and have thought of ways to make retirement enjoyable and special. There are activities and travel in plan, with excellent amenities to boot. You can even take cooking classes or have various tournaments with newfound friends or old ones. It's a very vibrant community where it doesn't look like you could ever be bored.
12. Eugene Abbey
Another one of the many retirement communities in Eugene, Oregon, this one is actually on the site of a former abbey and church. Eugene Abbey is a continuing care community with excellent facilities for those who need a little extra support, all near downtown Eugene. This is an independent living facility where you can access your customized levels of care, which makes it very convenient for residents of various backgrounds and health situations.
13. Grace Manor Senior Living
This urban retirement community is close to downtown Eugene, offering residential care, assisted living, and senior independent living opportunities. Assistance includes meals and transportation, but also housekeeping and a beauty salon. Rooms and services can all be customized, and expert staff is on hand for all types of support, depending on your circumstances.
14. Solvang Retirement
One of the best 55+ communities in Eugene, Oregon, Solvang Retirement Community is in the heart of the city and offers 99 private apartments of varying sizes. Amenities are diverse and second to none, including games and socials, fitness, nutritional plans, cultural and educational courses. You'll enjoy a patio and lots of secure outdoor space for sports, picnics, or a lovely walk. And you have access to a range of care options if needed.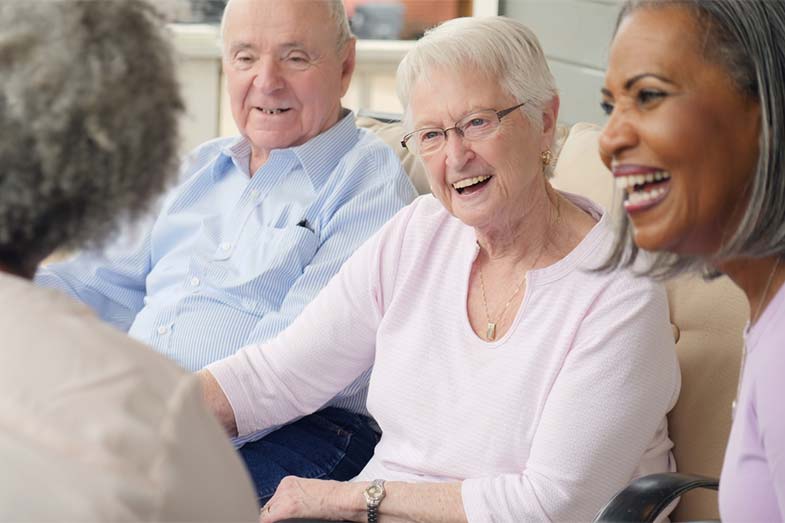 15. Lakeridge of Eugene
Last but not least, retirement living at Lakeridge of Eugene is something special. Dedicated to over 55-year-olds, this is a gated community located in Eugene's Ferry Street Bridge District. You can purchase various types of homes, all with the highest specifications, including 35 lakefront properties. A range of community activities are offered: access to Ayres Lake for birdwatching and water sports, a community center with sports classes, a heated pool and hot tub, an exercise room, and more. This community is ideal for independent living near like-minded neighbors, with all the amenities you could think of and close to the city itself.
Finding a Retirement Community in Eugene, Oregon
Once more, here are our picks for the 15 best retirement communities in Eugene, Oregon:
Cascade Manor
Garden Way Retirement Community
Terpening Terrace
The Springs at Greer Gardens
Churchill Estates Retirement Community
Willamette Oaks
Sheldon Oaks
Evergreen Senior Living
Lone Oak Assisted Living
Fox Hollow
Crescent Park
Eugene Abbey
Grace Manor Senior Living
Solvang Retirement
Lakeridge of Eugene
The charming Eugene, with its wonderful mix of outdoor-friendly infrastructure, vibrant arts scene, and multi-generation population, can be a great place to retire whether you're a native Oregonian or not. These retirement communities offer various senior living options, from assisted living and memory care to fully independent rentals or homes for sale. You'll spend your time engaging in lots of different activities, staying fit and healthy, and being looked after by the expert staff, too.