Ruskin, Florida, is known for its natural beauty and wonderful, year-round sunshine. There are some gorgeous beaches within this census-designated place in Florida that you can find in this article: 4 Best Beaches in Ruskin (Hillsborough County).
This article will cover the beaches near Ruskin for those looking to venture out. We included some beautiful beaches in nearby Manatee County, like Coquina Beach, and in Pinellas County, such as St Pete Beach. Our list of pristine beaches, amenities, and attractions makes this region a discerning travelers' destination.
Our picks for the 10 best beaches near Ruskin, Florida, are as follows:
Coquina Beach, Ana Maria Island, Manatee County
Bean Point, Ana Maria Island, Manatee County
St. Pete Beach, St. Pete Beach, Pinellas County
Pass-A-Grille Beach, St. Pete Beach, Pinellas County
Beer Can Island, Longboat Key, Hillsborough County
Treasure Island, Treasure Island, Pinellas County
Madeira Beach, Madeira Beach, Pinellas County
Siesta Key Beach, Siesta Key, Sarasota County
Clearwater Beach, Clearwater Beach, Pinellas County
Indian Rocks Beach, Indian Rocks Beach, Pinellas County
10 Best Beaches Near Ruskin FL
1. Coquina Beach, Ana Maria Island, Manatee County
Coquina Beach is south of Anna Maria Island in the city of Bradenton Beach. It is a beach reminiscent of old-style Florida beaches and has not changed much since 35 years ago. Conde Nast Traveler, in 2015, named Coquina Beach as one of the "top 5 beaches in the entire world for perfect sand."
It is a picturesque beach lined with tall Australian pine trees providing cool shade even in the hottest of summers. Coquina Beach is quieter than neighboring beaches with its laid-back and private feel.
Amenities Include:
Beach
Benches
Bike Racks
Changing Cabanas
Concessions – Coquina Beach Café
Games Tables
Gift Shop
Grills
Multi-Purpose Trail (paved)
Pavilions (5)
Picnic Tables
Playgrounds
Recycle Containers
Restrooms
Shower (outside)
Trash Receptacles
Trolley Stop
Volleyball (sand)
Water Fountains
Wheelchair (Beach)
Things to Do
Be sure to do the tours on Coquina Beach. There are boat and eco-tours, including that for paragliding. Rent a Jet-Ski, a boat, or kayaks.
Bradenton Beach is a place for food lovers. There are so many dining options: grill houses, bars and cafes, ice cream parlor, family restaurants, gourmet restaurants, and more.
For shopping, some highly recommended shops are Bridge Street Bazaar, The Lot, Sea-Renity Spa and Boutique, and The Back Alley Gift and Coffee Shop.
2. Bean Point, Ana Maria Island, Manatee County
Ana Maria Island is a 7-mile long barrier island on the coast of Manatee County, composed of three cities: Anna Maria, Holmes Beach, and Bradenton Beach. The island boasts six beaches, each with its own unique beauty and appeal; Coquina Beach has previously been cited here, located at the island's southern end. Another gorgeous beach is situated at the northern tip of the island – Bean Point Beach.
Bean Point used to be quite a hidden gem for many years but is now known as a very exclusive beach spot on Ana Maria Island.
It's historic because the founder of the small island, George Emerson Bean, chose to build his home here in 1892. Streets, houses, a water system, schools, churches, and the first community were established here. Though the structures have long been gone, what remains are the fine sand and clear blue waters, breathtaking scenic views, and incredible sunsets without obstructions. Another enjoyable activity is shelling – incredibly unique, fun, and free. Best at low tide. It's also an excellent place for bird and wildlife watching.
While Bean Point is the spot where you can see the waters from the Gulf meeting the Bay waters, it could be quite an exciting, natural spectacle. This makes swimming at Bean Point not recommended. It presents the risk for strong currents and riptides.
You need to hike a bit to get to this spot. There are no parking lots or lifeguards, though there are signposts indicating access points. There is limited street parking, though. A free trolley to Bean Point is available from the Anna Maria City Pier. If you have a beachfront vacation rental or a beach house nearby, biking to Bean Point is a great way to get there.
Attractions and Amenities
Bean Point is not exactly packed with amenities and attractions, unlike other beaches in Ana Maria Island. Still, its appeal lies in its natural, unspoiled surroundings that some travelers look for.
Apart from the awe-inspiring sunset views, you get magnificent views of cosmopolitan Downtown St. Petersburg from your vantage point on the island.
You are also near the Sunshine Skyway Bridge on the Tampa Bayside. The 15-mile long cable-supported bridge spans the bay, connecting St Petersburg and Terra Ceia, Manatee County. It is considered an icon of Florida. There's also the Egmont Key State Park, a designated fishing spot located at the mouth of Tampa Bay. It is a secluded island known for its wildlife, cultural history, and late 1800s lighthouse.
3. St. Pete Beach, St. Pete Beach, Pinellas County
When you're in Pinellas County, just west of Ruskin, you'll find many award-winning beaches. One of them is St Pete Beach, a resort city set on a barrier island just west of St. Petersburg. There's the unmistakable and famous Pink Palace ('The Don CeSar' resort) that looms atop sand dunes overlooking the beach. Tripadvisor named St. Pete Beach as the No. 1 Beach in America in 2021, and Parents Magazine named the beach as one of America's 10 Best Beach Towns for 2013″. This is one of the best beaches near Ruskin, Florida.
The beach is a bit- laid-back, a relatively quiet expanse of white sand if you want to get away from the maddening crowd. Enjoy dining at many restaurants offering gourmet, seafood, oyster bars, fast food, family dining, and fine dining. There's also plenty of bar-hopping on the south end of the beach.
Other Attractions
After a beach day at St Pete, there are other places to explore in the town. Find one of the main streets, Corey Avenue, with a small number of boutiques, cafes, and bars. Every Sunday, there's a great farmer's market here. Not far off, you'll end up at 8th Avenue in Pass-a-Grille Beach.
Have a unique experience at Rumfish, a restaurant and bar within the resort that bears the same name. There are three large aquariums here; one of them contains 33.500 gallons of water featuring various species of local sea life. With reservations, you can even snorkel in a Rumfish aquarium.
Visit parks on the city's Intracoastal waterfront: Horan Park, a beachfront park with a playground; Egan Park, a coastal park with sports courts, a fishing pier, and boat ramp; and Ron McKenney Park, another waterfront area with a memorial fishing pier.
4. Pass-A-Grille Beach, St. Pete Beach, Pinellas County
At St Pete Beach's south end in Pinellas County, Florida, you'll find the town of Pass-A-Grille, home to a laid-back, old Florida beach called Pass-A-Grille Beach, one of the beaches near Ruskin, Florida. It's quaint, unpretentious, and relaxing. The beach is a wide stretch of white sand along the Gulf Coast. It is 4 miles of pristine, undeveloped public beach heading to Boca Ciega Bay. You can just park and walk to the beach. You will not find crowds here, or fancy resorts, or condominiums.
But this place is not lacking in amenities to enjoy what you can call a piece of paradise. You should come to visit as this is one of the beaches near Ruskin, FL.
There are many modern inns in the town, some with fully equipped kitchens (like Coconut Inn), and they are just a walk away from the sparkling Gulf of Mexico. There are clusters of casual seafood eateries and beach boutiques nearby.
From where you stay, you are just steps away from the heart of Pass-a-Grille, where you'll find restaurants and shops. If you want to explore the neighborhood, there are beach cruiser bicycles available.
Eighth Avenue is where more amenities are located. More restaurants, galleries, boutiques, shops, and bars are found along this strip. Visit the famous Hurricane Seafood Restaurant, a rooftop bar for viewing spectacular sunsets. You'll also find an outdoor art market, tennis courts, and fishing piers. Visit also the Gulf Beaches Historical Museum, which showcases a little history about the region.
Have a boat tour to the secluded Shell Key Preserve, an uninhabited barrier island, for snorkeling or shelling or for watching dolphins.
5. Beer Can Island Beach, Longboat Key
Beer Can Island, also known as Hooked Spit or Greer Island Park, is generally situated between South Tampa and Apollo Beach. Specifically, you find it at the northern tip of Longboat Key, in the area of Sarasota. If it's your first time visiting, it may not be easy to find. It is pretty remote. However, you'll find it before you get to the only bridge there, the Longboat Key Bridge that connects Longboat Key and Ana Maria Island.
Why is it called Beer Can Island? It's because it is particularly popular with boaters who come to this beach, anchor down, and drink beer on the island. Folks who come here have boats, though many also walk to the beach at low tide.
How to Get There
By car, park at the N. Shore Road, west end. Walk north along the Gulf. The beach will be curving, but continue walking eastward now to Longboat Pass. You'll see many old, fallen trees near the shore, which make beautiful, haunting pictures with the backdrop of the sky. At Longboat Pass, many boats are seen anchored. You would have walked just half a mile, but really tranquil and just the waves beating up the shore.
This white sand beach is undeveloped, formed by tidal currents. The shoreline is pristine and beautiful, and peaceful, much loved by the locals. Swimming? Some folks do, but the riptides in Longboat Pass can be dangerous. It is a lot safer at N. Shore Road or across the bridge at Coquina Beach with lifeguards.
You might think you can find facilities or amenities here; there are none. The closest restrooms are at the South Coquina Concession Stand or porta-potties at the South Coquina Boat Ramp.
Should you expect the beach to be littered with beer bottles, beer cans, or drinking glasses? Nope. Those things you bring back with you because police do patrol the area by boat and ATVs. Pets are also not allowed. There is a fine of $500.
6. Treasure Island Beach, Treasure Island, Pinellas County
Treasure Island is a barrier island in Pinellas County on the west coast of Florida. Its early settlers of fishers, hunters, and possibly pirates and smugglers came around after the civil war. Its first real landowner bought the island for $1.25 per acre in 1848. The first hotel there came up in 1915. Treasure Island got its name after some enterprising folks spread rumors about buried treasure in the island, just to make things interesting.
The island is situated along the Gulf, has white sandy beaches, clear blue waters, palm trees, and nearby friendly hotels and unique restaurants. Not too far away are St. Petersburg and the major theme parks of Tampa and Central Florida.
Treasure Island Beach is one of the beaches near Ruskin, FL.
The Beaches
There are almost 4 miles of beaches, referred to as neighborhoods, and there are 3 of them. The first is mid-island, wide with many hotels, motels, and condos. It's commercial, with many restaurants and shops. There's the Treasure Island Beach Trail for walking, dog-walking, skateboarding, and bicycling. The beaches at the ends of the island, Sunshine Beach and Sunset Beach, are narrower. They are more residential – from beach cottages to Key West-style three-story homes; there are some smaller "mid-century modern" motels. There's a short boardwalk on Sunset Beach, perfect for strolling and fishing.
Amenities and Events
The tourism industry thrives here in Treasure Island. Pinellas County Treasure Island's Recreation Department manages and offers the following amenities:
Par 3 golf course and tennis facility
Little league baseball field
Mile-long beach trail
MobiMat offering 300 feet of ADA access to the beach
Many public beach access points
Three public boat ramps
Marina
Sunset Beach Pavilion
John Morroni Memorial Dog Park
Weddings and more
Activities offered are summer camp, winter camp, Zumba, Yoga, Jazzercise, art classes, tennis lessons, tennis clinics & more.
Treasure Island features several parks and trails, including Sunset Beach Pavilion, Sunset Vista Park, Weckesser Park, McLaughlin Park, Triangle Park, Rosselli Park, Kingfish Park, and Treasure Island Community Center Park.
7. Madeira Beach, Madeira Beach, Pinellas County
Madeira Beach is in Pinellas County, with the Gulf of Mexico to the west and St. Petersburg to the east. It is a Gulf Coast barrier island best known for John's Pass Village and Boardwalk, a waterfront turn-of-the-century fishing village and Pinellas County's top attraction. The city also has a beach and was acclaimed as the #9 Beach in the U.S. by Tripadvisor in 2021.
The Beach
Madeira Beach is 2 miles long of white sand facing the clear, sparkling waters of the Gulf. Travelers remark about how clean the beach looks, the warmth of the water, and the proximity of many amenities. The beach is not crowded and not too commercial, suitable for those seeking more quiet surroundings. Strolling and biking are favorite preoccupations, including just chilling out. Seabirds and manatees are frequently sighted.
About Johns Pass
John's Pass Village & Boardwalk is just a short stroll from the beach and is not your average fishing village. Over one hundred merchants call the village home – restaurants, retail shops, boat rentals, parasailing, and jet skiing stores, tour offices for dolphin watching and shelling, and sightseeing and lunch & dinner cruises.
Johns Pass is perfect for launching boat excursions using a powerboat, paddleboard, Jet Ski, or Waverunner. You can launch a fishing excursion from the Hubbard Marina. Family adventures are also offered when you have kids along; there's a Pirate Ship Tour, Beach Fun and Games, Alligator Attraction, and a cruise on Shark Boat. There's plenty of parking throughout the village, including a new state-of-the-art multi-level parking.
Dining at John's Pass is all about fresh seafood and waterfront dining that most restaurants offer. They even have a yearly John's Pass Seafood Festival for all varieties of seafood for locals and visitors.
8. Siesta Key Beach, Siesta Key, Sarasota County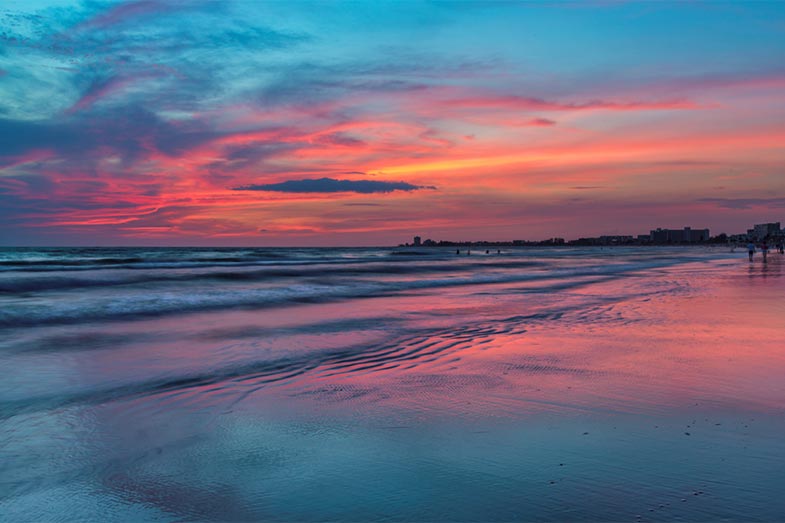 Siesta Key Beach is unique from other beaches in that its sand is not made of corals but rather is 99% quartz, mostly coming from the Appalachian Mountains that geologists say must be millions of years old. The crystal sand is soft and powdery underfoot and feels cool on hot days, the water is clear turquoise, and the beachside amenities complete the island's paradise appeal.
Siesta Key is 8 miles long and offers many resorts, shopping areas, dining options, and nightlife like no other. Anyone can enjoy Siesta Beach; it's for families, couples, sports enthusiasts, and all types of travelers. As an added note, Siesta Key Beach was ranked the #1 Beach in the U.S. in 2020 by TripAdvisor's Traveler's Choice Awards™. This is why Siesta Beach is one of the best beaches near Ruskin, Florida.
Popular on Siesta Beach is swimming, shelling, fishing, boating, snorkeling, parasailing, kayaking, watching the view, or watching out for dolphins. On the shore, people play tennis or volleyball, kids have fun in a shaded playground, and families get together for picnics. Also available are rental shops for boats, jet skis, and retailers for beach gear, like chairs, umbrellas, tents, paddleboards, and more. There are dolphin tours and sunset cruises.
There are many and different accommodations on the island – from luxury hotels and resorts, condominiums, apartment rentals to affordable inns – all just minutes away from the beaches. Dining options are available at the waterfront and many more scattered all over the island, offering a myriad of gastronomic choices, as well as bars and pubs with live entertainment. There are boutiques and bazaars for quaint shopping on the island.
Things to Do
The most popular saltwater activities in Siesta Key Beach are fishing and kayaking tours. Paragliding is also popular. A tamer and more relaxing option is to enjoy a boat tour that will take you from Siesta Key to other beaches nearby, such as Crescent Beach and Turtle Beach. Point of Rocks is a park that features geologic rock formations; it's great for wildlife viewing and bird-watching.
Take any bus and minivan tours and day trips exploring Sarasota. There's a public art tour offered, as well as a Sarasota food tour on foot. Silver City Sarasota is a must-see haven for sterling silver jewelry. Have a relaxing massage, spa, or facial in any of the many salons, or have a psychic reading as part of a tour.
9. Clearwater Beach, Clearwater Beach, Pinellas County
The city of Clearwater is northwest of Tampa and St. Petersburg. To the west of it lies the Gulf of Mexico and to the southeast Tampa Bay. Clearwater Beach is a very popular beach in Pinellas County and a beach near Ruskin, FL. It was voted (2018) the No. 1 in the United States, topped TripAdvisor's list of Top 10 Travelers' Choice Beaches in the US.
The Beach
Florida's west coast Clearwater Beach is a family-friendly destination, with sugar-white sand, lots of low-key restaurants, a huge playground, nightly shows, and other attractions for the whole family. This public bathing beach is known for its cleanliness, safety, family environment, and small-town vibe. Clearwater is the only municipality in Florida that offers lifeguards and beach grooming year-round.
While the swimming is excellent, there's also scuba diving, snorkeling, jet skis, wave runners and speed boats, and parasailing. If it's fishing you enjoy, there's offshore fishing, spearfishing, and even a 45-foot sport fisherman yacht to board to learn fishing. There's a Boardwalk that's great for strolling to rollerblading. The new Beach Walk, a lush beachside promenade, is becoming popular as guests can eat, drink, shop, and even enjoy beach volleyball.
More Things to Do
Pier 60. This is the main attraction on Clearwater Beach, which is for fishing but has become a children's attraction. Street performers entertain, from escape artists to stilt walkers. There's also a cinema at sunset and a beach playground.
Clear Water Aquarium. Dedicated to rescuing and rehabilitating ocean animals, rescuing injured and endangered animals, like sharks, dolphins, stingrays, sea turtles, otters, and birds.
Parks and Gardens. Honeymoon Island State Park, a picturesque honeymoon destination; Caladesi Island State Park, has a beach, hiking trails, and fishing area; Sand Key Park, great for bird watching – herons, roseate spoonbill, and great horned owls; Moccasin Lake Nature Park, has a lake, ponds, creeks, and nature trails; and the Florida Botanical Gardens.
Tours. Most tours leave from the docks of Pier 60 – sunset boat tours, dolphin-watching tours, a thriller speedboat ride, and a pirate cruise.
There are yearly events that bring crowds to Clearwater Beach. In April, the Sugar Sand Festival features concerts, vendors, art exhibitions, and the famous original sand sculptures. In September, the Clearwater SuperBoat Race is on its 10th year, and tens of thousands of boaters come to run the 2.5-mile-course.
10. Indian Rocks Beach, Indian Rocks Beach, Pinellas County
Indian Rocks Beach is just a short drive from Tampa or St. Petersburg. The beach is 3 miles long and located on the Gulf Coast, with almost 27 access points along Gulf Boulevard. Tourists worldwide visit this destination due to the clean shorelines, white sand, calm and clear waters, and marvelous Gulf of Mexico sunsets. Touristy but not overcrowded. It has a family-friendly vibe to it. Folks come to swim, sunbathe, boat or fish.
On the dune-lined stretch, you will find motels, rental condos, and vacation cottages. Step out, and you're already on the beach!
Attractions
Indian Rocks Historical Museum. For a bit of history, this old house tells how life was in Indian Rocks Beach in the 40s and 50s.
Kolb Park. Has playgrounds, tennis and handball court, swings, merry go round, picnic areas, library, and art center; good ice cream and candy shops, too.
Splash Harbour Water Park. A little waterpark, with a lazy river, slides, small pool and swimming areas for young & old, and a children's play area.
Contagious Fishing Charters. Offer short trips and day-long charters for fishing.
Clearwater Marine Aquarium. Find sharks, dolphins, sea turtles, stingrays, and otters. The aquarium also offers 90-minute safari boat tours.
Seaside Seabird Sanctuary. Find injured birds rescued, treated, and rehabilitated to be returned to their natural habitats. Donations are welcomed.
Conclusion – 10 Best Beaches Near Ruskin FL
To summarize, here are the 10 best beaches near Ruskin, Florida:
Coquina Beach, Ana Maria Island, Manatee County
Bean Point, Ana Maria Island, Manatee County
St. Pete Beach, St. Pete Beach, Pinellas County
Pass-A-Grille Beach, St. Pete Beach, Pinellas County
Beer Can Island, Longboat Key, Hillsborough County
Treasure Island, Treasure Island, Pinellas County
Madeira Beach, Madeira Beach, Pinellas County
Siesta Key Beach, Siesta Key, Sarasota County
Clearwater Beach, Clearwater Beach, Pinellas County
Indian Rocks Beach, Indian Rocks Beach, Pinellas County
Ruskin in Hillsborough County may not have that many beaches, but we discovered about four noteworthy ones that we put in. These are the beaches near Ruskin, Florida. We included a couple of Manatee County beaches frequently cited as must-visits when you're in Ruskin.
Pinellas County, which is adjacent to Hillsborough, is where most beaches are in this region. Ruskinites, visitors and tourists, make planned trips of half an hour to an hour or so to enjoy the gorgeous beaches on the other side of Tampa Bay. We have included here the most accessible beaches near Ruskin, Florida.