The beach is one of the most amazing places to relax and have fun, either alone or with companions. Being the Sunshine State in the USA, Florida has many crowded and secluded beaches that you can visit. If you plan to move to the area, consider Destin Florida beaches, as they're among the most popular and highly rated.
But what are the best Destin Florida beaches? Being in the panhandle, Destin offers both private and public beaches for you and your family to enjoy. There are also many activities to do and amenities to meet your needs. What's more, is that you can also find great beaches near the city.
Let's learn about the several beaches you can visit and what each can offer for you to understand why they're included on the list. Let's also look into some facts about Destin beaches to ensure you know what you'll look forward to once you arrive.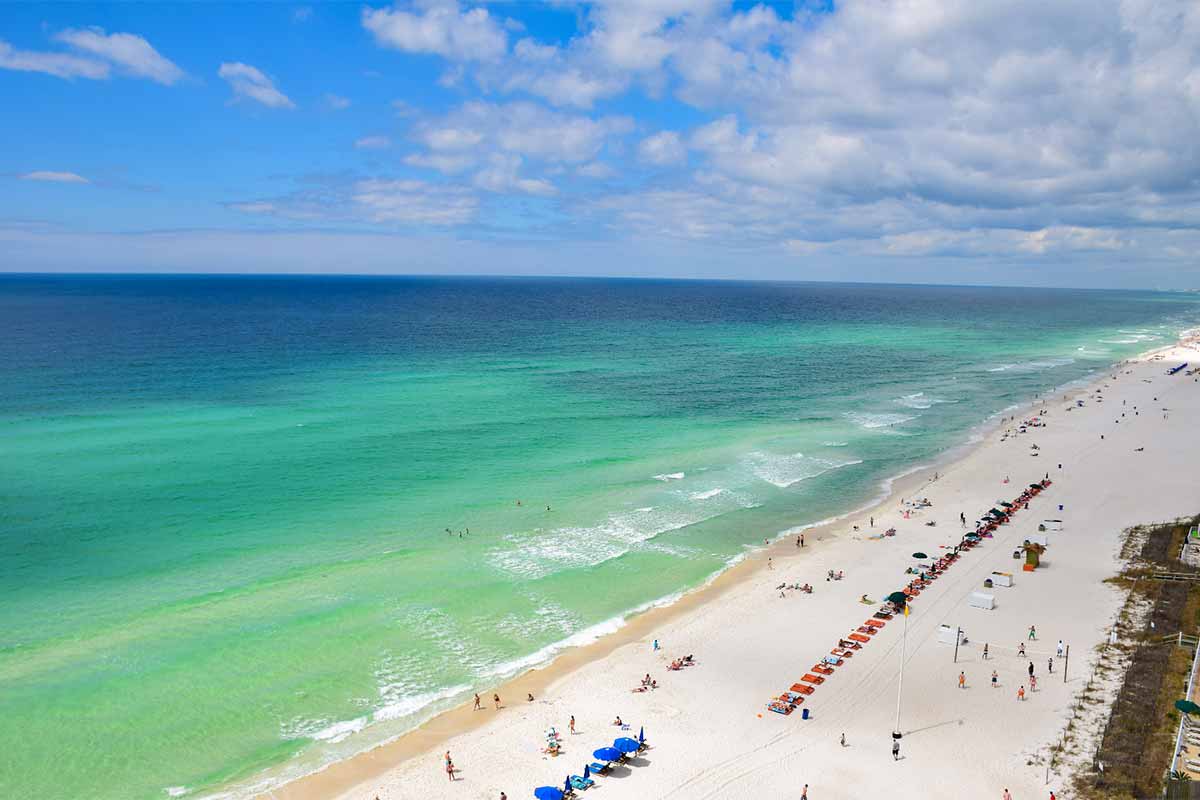 Things You Need to Know About Beaches in Destin Florida
A city located in Okaloosa County, northwest Florida, Destin is a famous tourist destination because it has much to offer, including its beautiful beaches. Before you head out to their beaches to see if this is the best area to retire to, you must know when you should check out the area and how safe their beaches are.
What is the Best Month to Go to Destin, Florida?
Although Florida has one of the best weather for a beach getaway, April and May are the ideal months to visit Destin beaches. That's because the water is warm and the temperature is comfortable for most people. Just keep in mind that these are the busiest months of the year, and most accommodations are costlier than usual.
June and July are also perfect months to visit Destin beaches if you want to avoid the crowd. What's more, there are also fun events in the city that you and your family will enjoy.
Is the Water Clear in Destin, Florida?
Florida is among the US states with a strong commitment to ensuring they have healthy beaches for locals and tourists alike. The beaches in Destin and beaches near Destin Florida, have constantly been regarded as having clear water. People often describe the water as having a swimming pool-like clarity and emerald-like glow.
The water's clarity is all thanks to the beaches' geographical location. They don't receive too many sediments since the large Choctawhatchee Bay filters them before reaching the Gulf. The inland waterways also have limited access to the Destin waters, enhancing their purity and clarity.
Is It Safe to Get in the Ocean in Destin, Florida?
Apart from cleanliness, your safety is also essential when heading out to the beach. Fortunately, professional lifeguards certified by the United States Lifesaving Association patrol the Destin beaches during the peak season. That is seven days a week, from late morning to late afternoon.
There are also beach flags and signs to help you identify how safe the area is. Green means the water conditions are favorable for swimming and other activities. Yellow means a medium threat, while red indicates a great danger. If you see two red flags, that means the beach is closed, while a purple flag means marine pests are lurking around the area.
Are There Sharks in Destin Beaches?
In terms of safety on the beach, one of the things that worry people are sharks. When you look at the Destin Florida map of beaches, you'll find that it's located along the Gulf of Mexico coast, a natural habitat for sharks. Hence, yes, there are sharks in Destin.
Some of the species you'll find are bull, hammerhead, nurse, and reef sharks. That said, you don't have to worry about being attacked. Not only are there limited fatal shark attacks in Destin, but sharks won't attack as long as you don't threaten them and take precautions.
Best Beaches in Destin Florida
Now that you know that it's safe to swim in and around Destin beaches and the waters are clean and clear, let's look at some of the best beaches in Destin Florida, that you can visit and explore.
Best Public Beaches in Destin Florida
1. Henderson Beach State Park
Being one of the biggest public beaches in Destin, Florida, Henderson Beach was developed to protect nature or the environment. It's known for its calm, warm, turquoise-colored water, snow- or sugar-white sands, and 30 feet coastal dunes. The water has dolphins, green sea turtles, Loggerhead turtles, and tropical fish.
You'll find lots of picnic tables and six pavilions where you can relax with your family or companions. There is also a playground where kids and kids-at-heart can have fun. Access to restrooms won't also be a problem since there's plenty in the area.
If you or your companions are nature lovers or outdoor adventurers, you'll love that Henderson Beach has hiking trails where you can have a glimpse of natural landscapes and wildlife.
What's more, there are approximately 60 campsites, with water, electricity, air conditioner, and heating system that you can book for a more comfortable stay. Lastly, you have easy access to several attractions along Highway 98.
2. O'Steen Public Beach
This public beach in Destin is a famous destination of local companies having excursions or rest and recreation activities. To access, you need to walk from the street parking area that can get full during the summer season. You can also arrive at the site via boat from Destin Harbor.
O'Steen Public Beach has many large boulders that stretch out of the beach water. There are also a lot of fishing and snorkeling spots. Thus, it's best to bring your snorkel and mask or complete snorkeling set. However, although there are foot wash and outdoor showers around the beach, there are no public restrooms.
3. Norriego Point Public Beach
Being one of the best public beaches in Destin Florida, there have been many upgrades on Norriego Point. You can park on the nearby street or the site's own parking lot. You can also hail a taxi or ride a paddleboat or kayak to and from the beach.
What you'll love most about Norriego is its stunning view. There's plenty of sea oats, sand dunes, and bird species flying. Swimming-wise, you can proceed to the East Pass area, which is protected by jetties, or the harbor side, where boats come and go. The beach has shower or foot wash areas, but there are no public restrooms available.
4. Crab Island
Crab Island is a sand bar that you can only reach via a boat. You can rent one, use your own, or book one of the charter companies in Destin.
You can enjoy many activities besides swimming, such as sunbathing, water volleyball, paddleboarding, and more.
5. Silver Shells Public Beach
When you look at the Destin Florida map of beaches, Silver Shells is one place you shouldn't ignore because it has many amenities. It has outdoor showers and foot wash, public restrooms, grillers, bike racks, a playground, and more.
You can also stay at the Silver Shells Resort if you want to have a little privacy or prefer to stay for a few days. This resort also operates The Sand Bar, a tiny beach bar that opens seasonally, usually from March to October.
Parking-wise, it has a large parking lot shared with the nearby Candymaker shop and Back Porch Restaurant. That said, during peak seasons, expect that it'll be challenging to find a parking spot.
6. Crystal Beach
If you want to head to a public beach that will make you feel like you're in a private one, then Crystal Beach is the perfect destination. Being a small public beach, they also only offer limited parking space. There's also a narrow pathway that you need to pass through to access the beach from the parking lot.
Once you reach the beach area, you'd be met with glistening, clear water and ivory white sand. If you're lucky, you'll get to see dolphins who visit the area from late spring to summer.
There are also rustic cottages, vacation rentals, outdoor showers and footbaths, and public restrooms. There are also nearby boutiques, restaurants, and entertainment venues.
7. James Lee Beach or James Lee Park Beach
Being one of the largest public Destin beaches, there's plenty of things to do at James Lee Beach. Plus, there are 41 picnic tables, three pavilions, dune walkovers, and other amenities available.
The water is also shallow enough so you can play watersports or just enjoy swimming, sunbathing, and more. You can also surf because of the gentle Gulf waves. Safety won't also be a problem since there are lifeguards around the beach.
8. Jetty East Beach
This Destin beach is most famous for snorkeling activities because of its amazing and unique shoreline. That is all because the water flows between the Gulf of Mexico and Choctawhatchee Bay.
However, it also causes current fluctuation, which you should note in terms of safety while snorkeling and swimming. With that said, you can also enjoy other activities like sunbathing, soaking in the water, enjoying the view, and sand activities. You can also visit the Big Kahuna's Water and Adventure Park, enjoy food at The Pancakery, or book a Crab Island cruise.
The beach often gets crowded, and parking gets full quickly, usually from November to April. As such, it's ideal to park in the O'Steen area, but expect that you would need to walk a few minutes to reach the beach.
Best Private or Secluded Beaches Around Destin Florida
9. Princess Beach
While relaxing at Princess Beach, you'll feel like you own a private island. It's the perfect destination if you want tranquility. It's a low-key or no-frills beach with turquoise water and tall, pristine dunes. It also has an onsite parking lot.
As a non-public beach, though, there are no outdoor showers, restrooms, lifeguards, and pavilions. Nonetheless, before or after your beach time, you can visit the HarborWalk village or have a bite at The Boardwalk.
10. Holiday Isle
Holiday Isle is another perfect destination if you want to avoid the usual crowd on public beaches. Note that you would need to spend more since you need to book a resort to have a fun beach and harbor experience.
Best Beaches Close to Destin Florida
11. Miramar Beach
Miramar Beach is the most famous destination for people looking for beaches near Destin Florida. You'll find this long stretch of beach and sand in South Walton.
It has restrooms that even those with physical disabilities can easily access. There are also patrolling lifeguards during the peak season, which is from March to September. Some activities you can enjoy apart from the usual are parasailing and jet skiing.
12. Topsail Hill Preserve State Park
Located in Santa Rosa, this area feels a little secluded, thanks to the tall dunes. With a three-mile beach, you can swim, kayak, canoe, paddleboard, and more.
13. Grayton Beach
If Miramar Beach and Topsail aren't enough for you, drive a little further, and you'll reach Grayton Beach. As one of the beaches close to Destin Florida, you can enjoy almost similar activities as the last two beaches we talked about. One drawback is that you would need to pay around five dollars for parking your vehicle.
14. John Beasley Park
Located in Okaloosa Island, this beach offers public showers, restrooms, and changing rooms. You'll also find a snack bar, 12 picnic tables, 208 parking spaces, and two pavilions.
For the West Pavillion, though, you would need to reserve it in advance. It is available for a two-hour-increment fee.
Best Destin Florida Beaches – In Conclusion
Undoubtedly, there are several options for beaches around Destin Florida, and even near it, whether you want public, secluded, or private ones. Whichever you choose to visit, you'll enjoy clean and clear waters, beautiful scenery, and powdery sand. Just note that at the moment, there are no dog-friendly beaches in Destin Florida.
Have fun, stay safe, and don't forget your swimwear, sunblock, beach-friendly footwear, and other accessories!