San Mateo County offers 60 miles of a beautiful Pacific Ocean coastline where several series of beaches reside. From the Pacifica region to Montara in the south, the beaches continue along the coast of Half Moon Bay and end in Pescadero. So, what are the best San Mateo County beaches?
San Mateo County has lots of beaches to enjoy. Head to Linda Mar Beach for some surfing, or if you enjoy hiking, Half Moon Bay's Cowell Ranch Beach should top your list. If you have a dog, Esplanade Beach is the best option to give them a leash-free beach experience.
Here are our picks of the best San Mateo County beaches in California:
Bean Hollow State Beach
Pescadero State Beach
San Gregorio State Beach
Pebble Beach
Pomponio State Beach
Rockaway Beach
Linda Mar Beach
Sharp Park Beach
Cowell Ranch Beach
Venice Beach
Roosevelt Beach
Francis Beach
Dunes Beach
Blufftop Beach
Esplanade Beach
This article highlights what each San Mateo County beach has to offer. Read on and discover the best beach getaway if you're looking to surf, hike, or enjoy a nature trail with your dog.
15 Best San Mateo County Beaches, California
Below is the list of beaches based on location and beach activity perks.
San Mateo Pacific Coast Beaches
This string of small beaches along the San Mateo Pacific Coast begins with San Gregorio in the north until the southern Bean Hollow.
1. Bean Hollow State Beach
Made up of two coves separated by a rocky point, you could set up for a picnic atop one of its low bluffs as you gaze down the two beaches below.
If you like to beach hop, take the Arroyo De Los Frijoles Trail, and in less than a mile, you're at Beach Hollow's northern extension Pebble Beach.
2. Pescadero State Beach
This mile-long beach west of Pescadero town has an inviting shoreline of rocky cliffs, tide pools, and sandy coves often enjoyed by wildlife enthusiasts. Seals by the rocks and dolphins swimming by are common scenes.
The sand dunes and trail leading to the Pirate Cove are major attractions, too.
It has a natural passageway near Pescadero Creek carved by waves and a Natural Preserve that's worth exploring.
If you visit between December and March, you'd be just in time to see the Elephant Seal Season.
3. San Gregorio State Beach
San Gregorio Creek flows into the beach, creating a lagoon behind a sand barrier in summer.
If you're into creating stuff by hand, some visitors are known to fish driftwood off the lagoon to create make-shift shelters.
You'd find large caves wave-sculptured into sandstones if you go north, as well as a private nude beach.
4. Pebble Beach
Pebble Beach is the northern part of Bean Hollow State Beach. It got its name from the multi-colored polished stones that sprinkle the beach's shoreline.
Keeping these pebbles company are other interesting stones like Lydian stone, jasper, and moonstones freed by erosion from an exposed rock that was once on the ocean floor.
Among the other Pebble Beach attractions are the honeycombed surfaces of sandstones that are perfect for capturing on camera (view on Amazon). A surface texture called tafone, a formation of the Pigeon Point, is created when salt air caresses the sandstones.
5. Pomponio State Beach
The beach's Pomponio Creek creates a seasonal lagoon that's tempting if you're up for some wading.
It also has a north-leading trail along the bluff, plus barbecue pits and picnic tables if you're looking for some quiet indulgence.
Pacifica Beaches in San Mateo County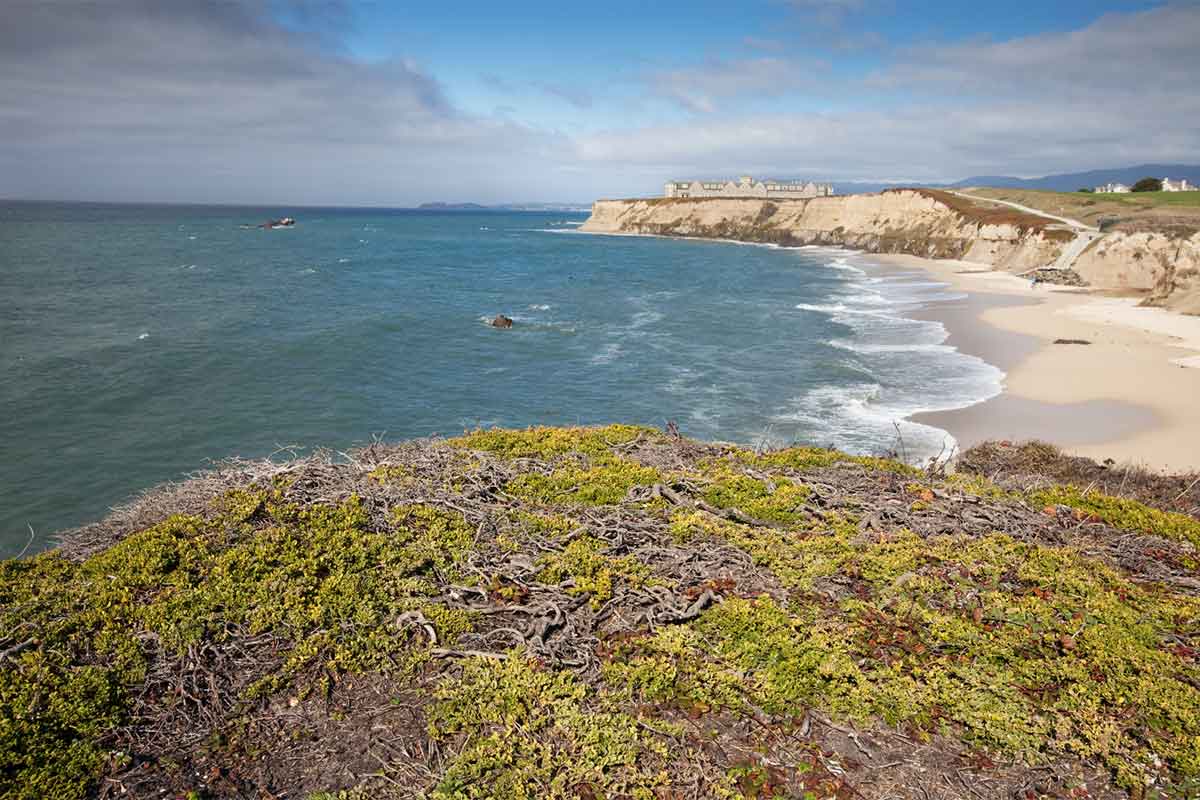 During winter, big waves are common across all Pacifica beaches, with Rockaway and Sharp Park beaches ideal for experienced surfers. If you're a beginner surfer, Linda Mar is an excellent choice.
You may want to check out the city-approved surfing camps like the University of Surfing or Surf Camp Pacifica that offer individual and group surfing lessons any time of the year.
The Pacifica string of beaches is also favored for its excellent fishing pier.
6. Rockaway Beach
If you're looking for a secluded feel, this coastal beach has that appeal even when San Francisco City is a few miles to its north.
A narrow beach planked by high bluffs at either end, the rock embarkments ensure your erosion-free surfing or sightseeing while sipping your favorite coffee from Pacific Java Café.
7. Linda Mar Beach
Also called Pacifica State Beach, surfing is among the main attractions in Linda Mar. Since it's near Highway 1, you'd easily find its coastal trail that stretches along the beachfront.
For your food fixes, just across the highway are favorite hangouts like Taco Bell, Starbucks, Donut Time, and Cold Stone Creamery.
8. Sharp Park Beach
Fishing for striped bass, salmon, jacksmelt, or surfperch is a popular activity at the L-shaped and over a thousand-foot-long municipal pier on Sharp Park Beach, especially in the summer.
With a waterfront that extends on either side of the municipal pier, explore its coastal trail's wildlife like sandpipers and mallards on the sky or sea lions and harbor seals around the pier.
If you turn inland beyond the beach, you will find Laguna Salada, a wetland lake where you might chance upon California red-legged frogs or cattails.
Half Moon Bay Beaches
Home to the Spring Big Wave Surf Competition, global seasoned surfers gather around this bay but only by invitation.
Four of the five beaches form a two-mile ribbon of pristine sand along Half Moon Bay's coast. The fifth, Cowell Ranch Beach, is about three miles to the south. Access to these beaches includes Kelly, Venice, and Young Avenues.
Pillar Point's breakwaters are North of the four beaches that buffer ocean swells, giving you calmer surf rides. The Half Moon Bay Coastside Trail extends 4 miles south of Pillar Point Harbor to the south of Poplar Beach.
If you visit these beaches in the winter months, you'd see Humpback and California Gray Whales during their annual migrations through a pair of binoculars (view on Amazon).
9. Cowell Ranch Beach
To the south of Half Moon Bay, a trail would lead you to a stairway down to this pleasant pocket beach.
If you remain on the bluff and explore the main trail beyond the stairs, an overlook gives you a fantastic view of a Harbor Seal Preserve on a southern beach.
On weekends, you could explore the beach's 3-mile Cowell-Purissima Trail that leads to Purissima Creek on the south.
10. Venice Beach
Venice Beach has more facilities than the other beaches in Half Moon Bay, yet it remains uncrowded most of the time.
The Sweetwood Park has a camping site suitable for 50 people, which Venice Beach shares with Dunes Beach.
Sunsets from this beach are beautiful, and its vast shoreline is ideal if you're visiting with a huge group like family, friends, or colleagues.
11. Roosevelt Beach
Often uncrowded, Roosevelt Beach has several short trails leading to select dunes toward the beach.
It has an incredible natural landscape of thick woods and towering cliffs that gives a serene beach experience. You may also indulge your sense of adventure through popular beach activities like clamming at Seabrook.
12. Francis Beach
As the headquarters of Half Moon Bay Beaches, it's the only beach with a lifeguard on duty during peak seasons. It also has campgrounds, a visitor center, and barbecue pits while you picnic with your family and friends.
13. Dunes Beach
After parking on one of Dunes Beach's low bluffs, you'd find a challenging trail down to clean white sand. There are also recesses up against the bluffs where you could seek shelter if the wind blows hard. So, make sure to pack a windbreaker (view on Amazon).
What makes this beach outstanding is that it offers a variety of exciting ways to enjoy the water.
San Mateo Dog-Friendly Beaches
If you believe that 'no dogs should be left behind,' check out these beaches that make your canine companion's tail wag in delight.
14. Blufftop Beach
If you want an uncrowded escape for you and your dog, this beach that's right on Half Moon Bay should be among your first choices.
Access to the beach is steep, but it's at the base of a long wall of bluffs with several access points.
You're required to run your dog on a leash, but you might see some untethered human-dog pairs.
15. Esplanade Beach
Would you like your dog to dig its paws on beach sand leash-free?
Esplanade Beach is one of the few San Mateo County beaches that offer a leash-free beach experience!
Getting to this beach may entail a long set of switchback trails and stairs at Esplanade Drive's north, but the combination of soft sand and rugged cliffs makes it a perfect sunset spot for you and your dog.
Conclusion: 15 Best San Mateo County Beaches, California
Let's recap the best beach destinations in San Mateo County, California:
Bean Hollow State Beach
Pescadero State Beach
San Gregorio State Beach
Pebble Beach
Pomponio State Beach
Rockaway Beach
Linda Mar Beach
Sharp Park Beach
Cowell Ranch Beach
Venice Beach
Roosevelt Beach
Francis Beach
Dunes Beach
Blufftop Beach
Esplanade Beach
San Mateo County beaches have individual magnets that draw people. However, the overall view offers breathtaking ocean sceneries and cliffs chiseled by time, wind, and rain.
Whether you're looking to indulge in beach activities or choose to be a spectator from atop a bluff or on the shorelines, San Mateo County beaches are bucket list-worthy.